I recently returned to my hometown for a book signing, and I enjoyed a good turn out in the tiny Southern community. The owners of Humphrey's Mayders and Tayders were excellent hosts. It's bizarre to imagine selling books in the mix of this store, but it has a jumble of everything from ferns to crayfish to nice blouses. I was relieved to be given a table apart from the crustaceans. Don't people know those are actually in the arachnid family? Why are they all merrily eating spiders? There's an xkcd comic that describes the situation perfectly. It's called "Alternate Universe".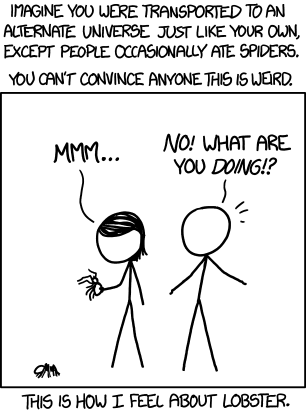 Just extend the situation to all crustaceans for me. And since no one came close to me with the insidious clawed creatures, it was a pleasant event. And I was thrilled to sign books for old friends and new fans alike. I am excited to see my favorite genre gaining traction in the town whose library ran out of  young adult sci-fi/ fantasy books for me to read as a child.
Here's a picture from the event.
Thanks to all who showed up and supported a local author.